I cannot recommend this enough. I think reading it after you've seen the series works well. It is Piper's memoir about her life and time in jail. You recognize characters/individuals who are portrayed in the series, yet she really paints a different picture of her time in jail and the conditions they experienced and the way life really is behind bars. Sure, there is Red (Pop in the book) yet you quickly see how they added back stories and plot lines to make good tv. Kerman also weaves in the cold and sad truth about the prison system and the life that awaits those who get out of jail eventually. I know some critique the show for glossing over prison life, read the book, there is no glossing here. Just a well written memoir of one person's time in jail and what those 15 months were really like for her and her camp-mates.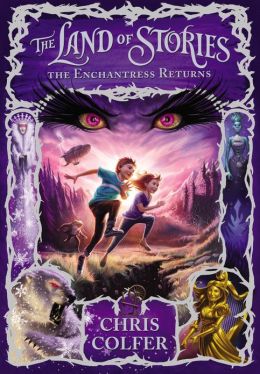 After I devoured the first book in this series, I was stoked to read the second. The writing was even better and it was clear that Chris Colfer really hit his writing and creative (is it possible to get even more creative) stride. This time, we find Alex and Connor back in the Land of Stories on a quest to rescue their mother and save the land from the evil Enchantress who has come back in an attempt to take over the world and get her final revenge. Alex and Connor set off with Red, Jack, Froggy, and Goldie to build a wand that may let them save their world. The story moves at a great pace and really creates some amazing back stories for more of your favorite fairy tale characters. Read the 1st book and then this one!
Chris Colfer really is a creative genius. I devoured this book as well as the plot thickened in the Land of Stories. This book finds Alex and Connor needing to save the world from an attempted take-over by a French army that was stuck in a time portal for 200 years before finally arriving ready to attack. As the Fairy Grandmother ails it's up to Alex and Connor to save the kingdoms. This time there is a masked character from the Land of Stories who is helping the French army and hides a deep secret beneath his hood. While the story was heavier this time there was the perfect amount of levity from the "lighter" characters and an amazing plot twist at the very end. Now to wait for the 4th book!


also...going to do a better job at promoting my Monday link-up!
come join the Good.Random.Fun. each Monday, right here!